Course time:

1 hour 40 min
Course overview
Let's have look at Arnold lighting, shading and rendering tools in 90 minutes.
This hour and half spent will empower Junior artists and artist new to lighting
as they realize that maybe it is not such a complex endeavor !
This tutorial is aimed at artists who transition from another renderer and
want to get a rapid overview or Arnold before deciding to invest more time into it.
intro to arnold for maya

About this course

I will introduce you to the main aspects of Solid Angle's Arnold, the official lighting, shading and rendering companion of Maya since 2017, it is a great all-rounder renderer I have used on feature films and smaller commercial projects since 2007.
I will start by exploring how Arnold is integrated to Maya, working with the very fast interactive rendering window.
Next by examining the main settings that are responsible for a noise-free rendering while maintaining an acceptable rendering time.
Different scenarios such as indoor, outdoor, daylight and nighttime will be analyzed.
All-time favorites for any CG artists: depth of field, motion blur and volumetric effects are discussed too. I hope this course will give you the confidence needed to delve longer and deeper in lighting and rendering with Arnold! - Frederic Durand (Mentor)

Course Information

Course Duration: 1 hour 40 minutes


This course can be taken at any time


Category: Lighting & Rendering


49 USD


Prerequisites: None


Software required: Autodesk Maya , Arnold


Instructor: Frederic Durand

Learning Information

What will I learn?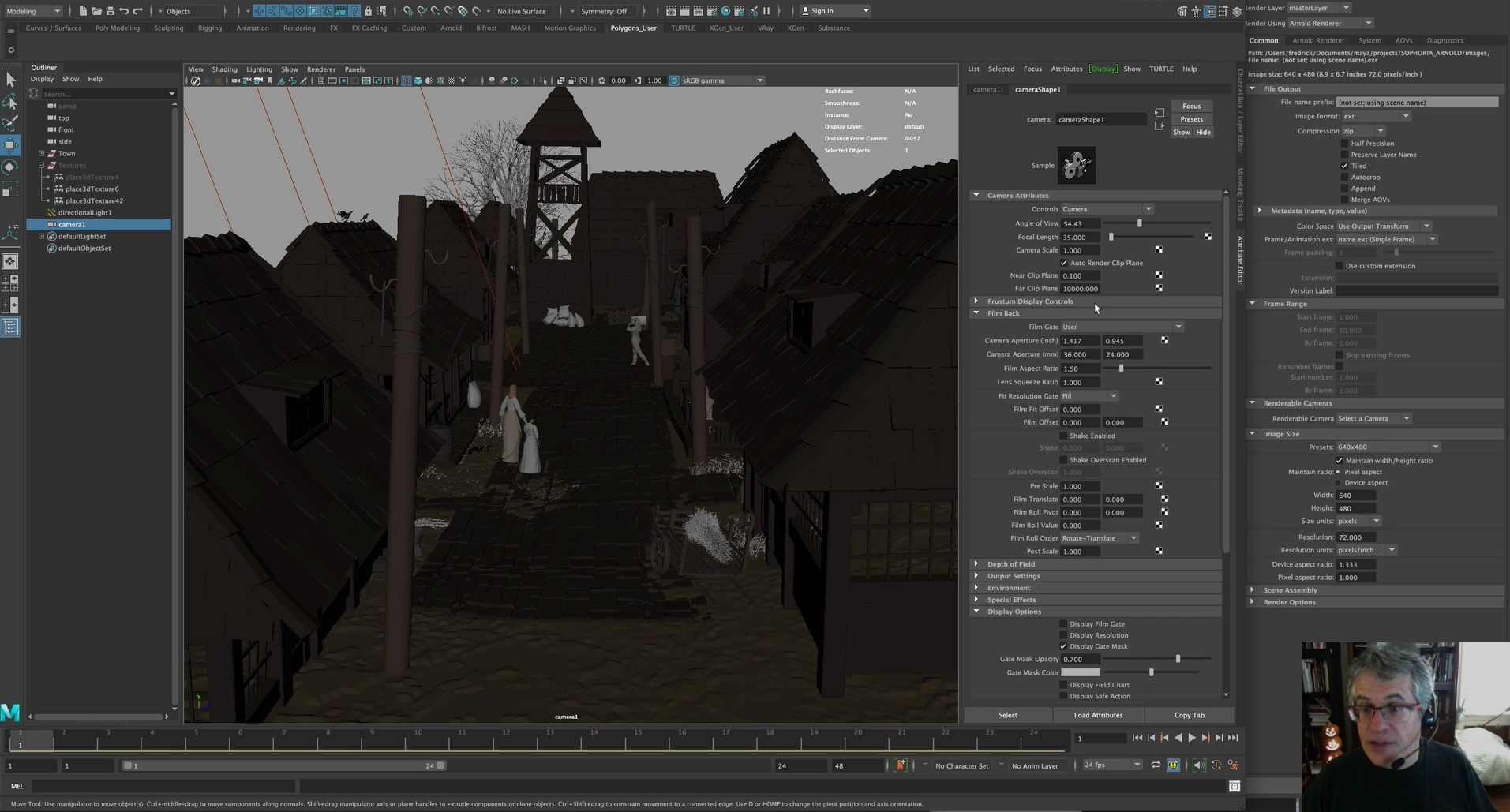 Rapid but effective bird's-eye view of the renderer
Understanding how computer-generated illumination is related to cinematography
What differentiate daylight lighting versus nighttime
How to approach lighting for an indoor scene versus outdoor
Creating mind-blowing volumetric effects such as god rays
Creating realistic material descriptions like metal and wood
Creating photo-realistic effects like depth of field and motion blur
How to render with the desired quality and acceptable rendering time
Learn different light setups both indoor and outdoor techniques

Find out how to improve your workflow during compositing

Benefits of Sophoria Academy
Learn from some of the best instructors in the World from the comfort of your own home.

We want you to learn all the skills you need to become a VFX artist in your own right and at a price you can afford. No more expensive learning.

A social community
When you join the academy, you will join other students from all over the World. Share your work in the forums and meet new friends!
Invite your friends
Using our affiliate program, you can now share courses and get discounts on others. Invite and refer a friend to benefit!
Track your progress
Follow your path to learn each and every skill. Track your progress and come back at any time, we make this easy for you.
Watch any time
If you are joining a course or a mentorship, sit back and relax. Study at your own pace and network with others.
Project Files
files set up and in an easy to understand format. Your instructor has prepared everything for you already!
Mentorship opportunities
Some of our courses offer mentorship features. Be sure to get a course with mentorship so you can have direct feedback from your instructors.
Try it
FREE
No credit card required

No expiration

Limited access

Preview the final output

No commitments

Buy it
$49
Instant access to this course

1 hour 40 min of videos

Download Project files

Exclusive community

Lifetime access
Meet the mentor
Frederic Durand
Frederic Durand has had the opportunity to work at Sony Imageworks, Disney Animation, DreamWorks, Jim Henson's Workshop, MPC and Digital Domain on animated films, feature films, and commercials during the past 20 years.
As a leading lighting artist, his approach is not only technical, but also artistic and integrates aspects of cinematography into his approach.
He has been teaching lighting and rendering classes with Arnold, V-Ray, Redshift, Renderman and Nuke at the Gnomon school, the University of South California and now at Sophoria.

\Learnworlds\Codeneurons\Pages\ZoneRenderers\CourseCards
Sign up to our mailing list
Created with