Animate a Giraffe Walk Cycle
Mentor:

Jonathan Symmonds




Course time:

3 hours 05 min
Course overview
Have you ever wanted to learn how to animate a Giraffe Walk Cycle? This course will take you through all the fundamentals you need to know to accomplish the infamous challenge of animating a quadruped walk cycle.

Jonathan Symmonds, your instructor, will teach you all the tips and tricks you need to know. By the end of the course you will have your own walk cycle to show!

How to animate a Giraffe WALK cycle

About this course

Animating a quadruped is no easy task for a young aspiring animator. However in this course you will learn how to animate from a professional and specialist in quadruped animation. We will start the course by researching the walk cycle and get familiar with the rig, then block out the basic 52 frame cycle. A walk cycle of a giraffe is very different from other quadrupeds. We will take reference from footage online and match the pace and timing. Once you have completed your course you will have your very own quadruped Giraffe walk cycle for your demo reels!

Course Information

Course Duration: 3 hours 05 minutes


This course can be taken at any time


Category: Animation


49 USD


Prerequisites: None


Software required: Autodesk Maya 2019+


Instructor: Jonathan Symmonds

What will I learn?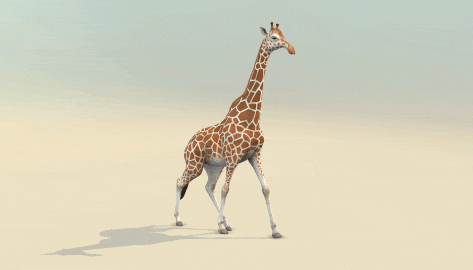 Learn how to animate an elegant Giraffe walking
Learn secrets to working with similar curves
Learn how to animate using a simple workflow
Better your understanding of anatomy and locomotion
Submit your work for review amongst peers
No prerequisites required
Learn how to animate on animation layers
Animate against a back-plate
Learn from the best instructors
Spice up your demo-reel
Don't hesitate
Take your skills to the next level!

"Surround yourselves only with the best. The better they are, the better you will become!"

Meet your instructor
Jonathan Symmonds

Jonathan Symmonds has worked for over 18 years as a senior animator having worked on titles such as James Cameron's "Avatar," "Prince of Persia," "Dark Tide," "Knerten," "Trollhunter," to name but a few. He is more famously recognized as the 'Lead Animator' on the "Game of Thrones."

He has extensive knowledge of creature animation and is one of the co-founders of Sophoria Academy. He was nominated 3 times for a VES Society Award and has even done his own TED Talk.

Join him as he takes you through this fantastic course and learn some insider knowledge from one of the greatest animators around!

Benefits of
Sophoria Academy
Learn from some of the best instructors in the World from the comfort of your own home.

We want you to learn all the skills you need to become a VFX artist in your own right and at a price you can afford. No more expensive learning.

A social community

When you join the academy, you will join other students from all over the World. Share your work in the forums and meet new friends!
Invite your friends
Using our affiliate program, you can now share courses and get discounts on others. Invite and refer a friend to benefit!
Track your progress
Follow your path to learn each and every skill. Track your progress and come back at any time, we make this easy for you.
Watch any time
If you are joining a course or a mentorship, sit back and relax. Study at your own pace and network with others.
Project Files

Our courses have all the working files set up and in an easy to understand format. Your instructor has prepared everything for you already!
Mentorship opportunities
Some of our courses offer mentorship features. Be sure to get a course with mentorship so you can have direct feedback from your instructors.
Try it
FREE
No credit card required

No expiration

Limited access

Preview the final output


No commitment

Buy it
$49
Instant access to this course

3 Hours 05 min of videos

Download Project files

Exclusive community

Lifetime access
Save money

Buy the Quadruped Bundle!

Run Cycle & Walk Cycle

\Learnworlds\Codeneurons\Pages\ZoneRenderers\CourseCards
\Learnworlds\Codeneurons\Pages\ZoneRenderers\CourseCards
Grab the chance
SOPHORIA Academy Affiliate Program has landed
Earn ongoing monthly income by joining our free affiliate program
Sign up to our mailing list
Created with